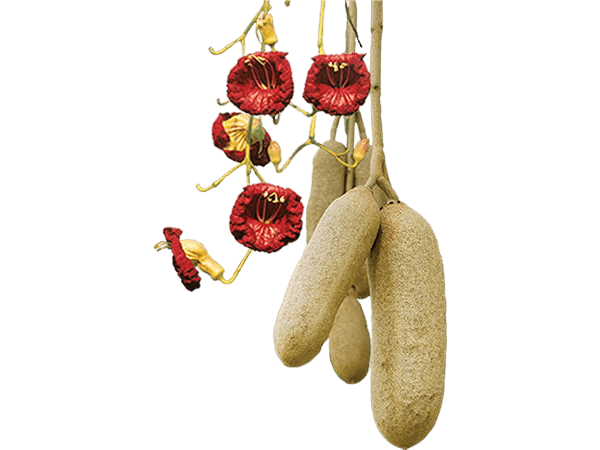 Kigelia has a long history of use by various African communities. Even to this day, it is still widely used especially in rural villages with limited access to modern medicine. Kigelia's bark, leaf, fruit & even roots have been used to remedy various diseases. But here, we shall focus only on the topical use of the kigelia fruit. The fruit is packed with a number of powerful skin friendly compounds such as antioxidant flavonoids, fatty acids, natural steroids & saponins. Therefore, it has amazing anti-bacterial property, anti-fungal & anti-inflammatory property. That supports its traditional usage for treating a wide range of skin problems, from infections, to sun burns, blemish, psoriasis, eczema & even STDs.
Interestingly, kigelia also has been applied on women chest to enlarge breast size & improve its firmness for hundreds of years. A team of scientists in India investigated this & found that kigelia contains phytochemicals that helps to develop and strengthen the breast collagen fibres. The primary phytochemical of interest is kigelin. It's a protein that promotes the production of collagen, elastin & hyaluronic acid in our skin. That's how it helps to restore the skin's resilience & elasticity. As the breast do not have muscle, they are only maintained in place by their skin covering.
Modern research on kigelia is still limited but mostly found that kigelia phytochemical constituents does have the medicinal properties that justifies all of its traditional uses.
CHARACTERISTICS OF KIGELIA AFRICANA
The kigelia fruit extract has an acceptable scent. It smells neither good nor bad. So, it's easy to incorporate it into various skincare products. Take note that although the fruit is eaten by some animals but raw kigelia fruit is toxic for human consumption. It needs to be dried, fermented or roasted first before it is safe for human consumption.
BENEFITS OF KIGELIA AFRICANA
1
Antibacterial property. The antibacterial activity of kigelia fruit extract against various different bacteria has been studied & result shows that it effectively inhibits many types of bacteria growth. This is one reason why kigelia is a traditional remedy for various skin infections including STD & acne.
2
Anti-acne. On top of its strong antibacterial property, kigelia has anti-inflammatory property as well. With those 2 benefits combined, it helps to clears off acne causing bacteria & then reduces the inflammation. Within a few days, the acne will shrink & the redness reduced. But the acne scars may take a longer time to fade away.
3
Skin firming & tightening. Kigelia fruit contains steroidal saponins & flavonoids that can stimulate a unique enzymatic activity. That enzymatic activity reinforces the strength & stability of our skin collagen fibres. This helps to firm up our skin & improve its elasticity. Therefore, kigelia is often used for anti-aging purposes to smoothen out fine lines or wrinkles. It is also commonly massaged on women's breast to improve its size & firmness.
4
After-sun treatment. Kigelia can hydrate & heal dry patches due to sun damage, sometimes known as solar keratosis. It is also proven to be able to halt the growth of melanoma – a cell that causes skin cancer.