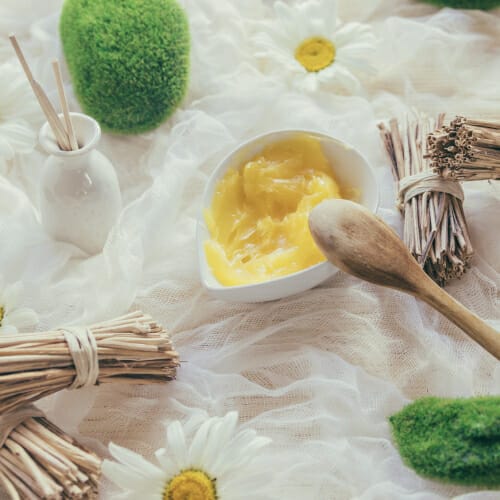 About Nilotica Shea Butter
Nilotica shea butter is a different type of shea butter compared to commonly available one. This wonderful butter is extracted from the nut of another species of the shea tree known as vitellaria nilotica. Hence, it's commonly known as nilotica shea butter. Since this unique species of shea tree is only found in the eastern part of Africa, some calls it East African shea butter instead. On the other hand, the commonly found West African shea butter originated from the nuts of the vitellaria paradoxa tree.
Unlike West African shea butter, this East African shea butter has higher olein content. That gives it a softer, cream-like texture & hence easier to spread on the skin. As you spread it on your skin, the butter will just melt away & disappear into the skin without leaving any greasy residue. For those reasons, nilotica shea butter is the most ideal butter to be used for delicate areas like our hair, face & hands. Its fast absorption is also a plus point for parents with young kids or babies. They will find the nilotica shea butter more convenient to apply on their children, especially when they are actively moving around.
The main reason for the rarity & lack of awareness on this remarkable shea butter is due to its limited supply. The shea belt across central Africa whereby shea trees grows wildly & uncultivated, comprises of roughly 20 countries. Among that many countries, only 2 of them produces the nilotica shea butter i.e. South Sudan & Uganda. To make matter worse, those 2 countries were plagued by many years of civil war.
Therefore, it is difficult to source for reliable & high quality shea butter from there. For those who managed to find a source, it is a logistical challenge to export the butters out of those countries. The nature of the shea tree also contributes to its rarity. It takes anywhere from 20 to 50 years before the trees start to bear fruits. Even then, only the female trees will bear fruits. Thus, large scale cultivation of shea trees is very unlikely.